contact us
Zhengzhou Hejin Metal Material Co., Ltd
Tel:+86-371-60339002
Fax:+86-371-55397386

Whatsapp:+86 18037576877

Factory Address:Gongye Road, Shangjie Zone, Zhengzhou, China
Office Address:13F, No. 11 Zhengshang Road, Zhengzhou, China
Sheets and Washers for Copper- Aluminium Connections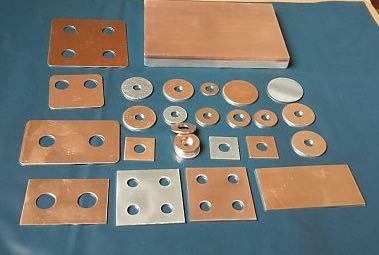 Sheets and Washers for Copper- Aluminium Connections
Bimetal plate and washer are used in connect betwen copper and aluminum conductors . in order to avoid crossion and make the connector ineffetive and unreliable .
Being Cu and Al material with diffrent electical potential , the contact between the two aterial a galvanic cell in presence of an electrolyte , with deterioration if the aluminum material with rapid decay of electrics capacitance .f the contact surface(Stack effect).
The most important is the bi metallic Cu-Al sheet or washer prevents the on set of the problem . sine the products are bimetallic (obtained by explosion welding ) the Cu And Al surface are moleclarly connected , with out the presence if the electrolyte thant could be trigger.